The Dads of Castle Rock hosted their first annual Vitalant blood drive on June 27th, 2022, from 10:00 am to 3:30 pm at the Douglas County Fair Grounds. The blood drive was organized by Dads of Castle Rock members, Joseph Bessenbacher and Blake Hamman who learned that Vitalant, the nation's largest independent, nonprofit blood services provider, declared a critical blood shortage emergency for 75 Colorado hospitals.
According to Vitalant, the patients continued need for blood has reduced Vitalant's blood reserve by 50%, yet the number of new blood donors has unexpectedly dropped sharply by 12% since the beginning of the COVID pandemic.
As the need for blood reached its highest level, blood donations in April and May dropped by nearly 13,000 from April and May, 2021. This severe drop in blood donations catapulted the need for donations to replenish the blood reserve for Colorado hospitals.
Staying true to the Dads of Castle Rock ethos, Joseph and Blake coordinated with Vitalant and started planning what would end up being Vitalant's biggest single-day blood drive to date. A blood drive requires a minimum of 14 donors, with the average drive consisting of 25 to 30 donors. 144 members of the Dads of Castle Rock and the Castle Rock community answered the call to action, donating approximately 141 pints of blood.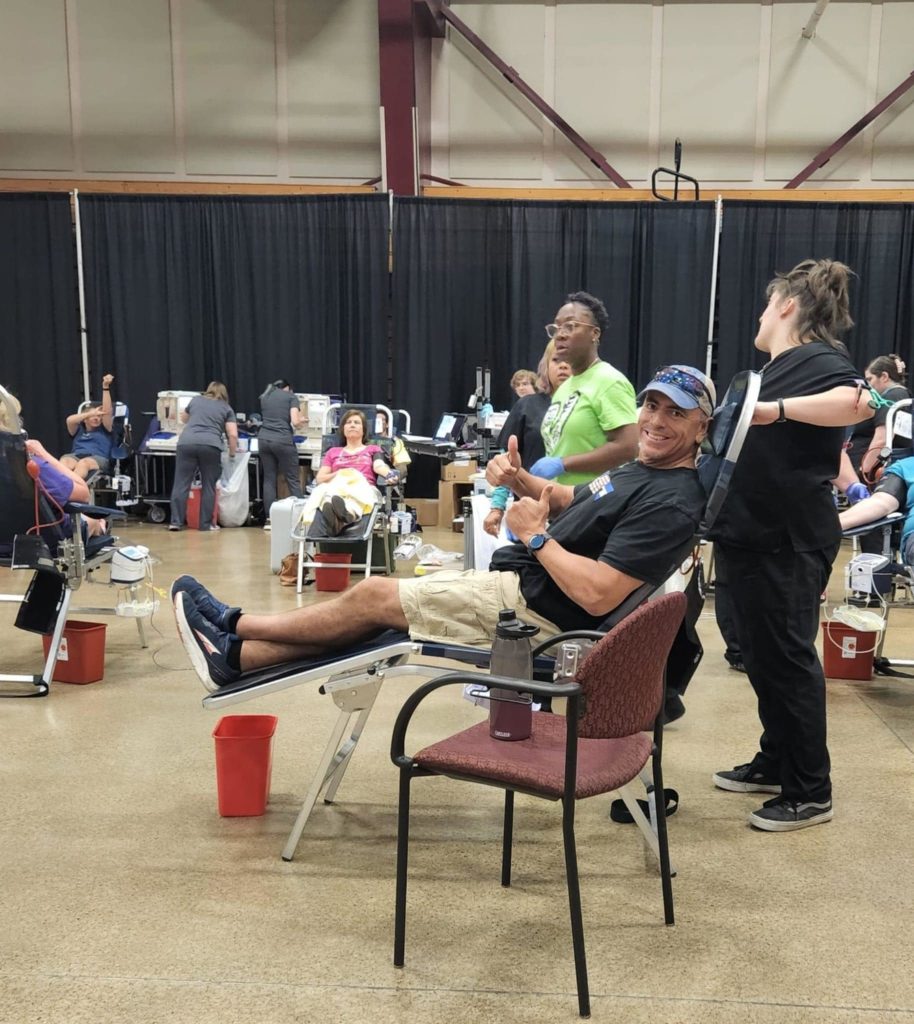 "After a long introspective Christmas," Joseph said about what led him to help start the blood drive, "I came to the conclusion that I wanted to do something for others to make a difference. I was seeking a chance to get outside myself. When I saw a story on the news about the desperate need for blood and how one donation can save three lives, I knew this was a chance to be impactful. it was a chance to initiate something through DoCR that wasn't already happening."
Blake said, "I was completely taken aback during check-in when nearly everyone in the community thanked us for setting up a local blood drive. Many of the donors were regulars, but of the 144 donors we had, 30 of them were donating for the first time."
To put this in perspective, the Dads of Castle Rock blood drive saw an increase of 380% from the average blood drive, collecting enough blood to save up to 423 patients. The blood drive was so large, Vitalant was required to bring six of their mobile donation vehicles and all the staff from their Denver location.
"I was so happy to be able to do something bigger than myself that I knew would help so many people. It was a very humbling experience," one donor said after their blood was collected.
The Dads of Castle Rock and the Castle Rock community do not need incentives to show their generosity and desire to help. Despite this, BURLY Brewing Company, Iron Mule Brewery, and 105 West Brewing Company offered all blood donors over 21 received one free pint to show their appreciation.